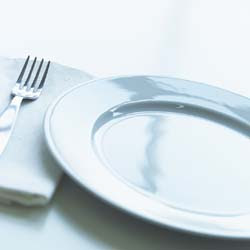 You must eat it

in haste.
These words, from Exodus

12:11

, are part of this week's Torah portion. They teach us how to eat the Passover sacrifice, to recall the Exodus.
That command was a precusor to the destiny our people experienced for thousands of years. Until just this last century, the Jewish story has been one (largely) of deprivation and struggle for survival.
The Torah tells us to remember that history. When we struggle, we do not have time to rest, to eat at leisure. Rather, we eat quickly, being vigilant as to our surroundings.
Dining is a privilege of those who are comfortable. Instead, when we struggle, we eat in haste.
Food is very important in Judaism. It is a part of every Jewish holiday. In our historical DNA, there is that memory of hunger, of struggle. As we are commanded over and over again in the Torah, we should care for the "stranger, for we were strangers in the land of Mitzrayim."
Once a month in Kansas City and once every-other-month in Olathe, our congregation joins together to feed those who struggle in our community. We give them a chance to dine…a luxury they are rarely afforded on their own.
As 2014 dawns, our first opportunity to feed our neighbors and soothe some of their struggles is:
Thursday, January 2, 5-7 pm
Center of Grace, 520 S. Harrison, Olathe
CLICK HERE for a map
This is a NO SCHOOL day for most in Johnson County and is a great opportunity to bring children and/or grandchildren to help. (Children should be at least 7 years old, be able to be on their feet for a couple of hours, and be able to follow simple directions.) We need 30 people, who can smile and serve food.
Our neighbors are hungry. Let us feed them and give them hope and sustenance. On

January 2

, may they

NOT

eat in haste!