SHEMA YISRAEL – A GIFT OF BELIEF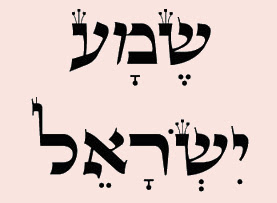 "And he lived…"
Why
do we say
the Shema?
What does it mean?
Of all the prayers in Judaism, the Shema is the closest we have to a creed. If there is a prayer that Jewish children know, it is most likely the Shema. Many parents sing it to their children before going to bed. It is recited morning and evening during tefillah (prayer). It has been on the lips of Jews in moments of need, and even in moments of death. In more traditional synagogues, there is a tradition to whisper the second line of the Shema ("Baruch shem…"), except on Yom Kippur. The following midrash on this week's parasha, Vayechi, explains the Shema's origins, and provides one explanation for this "whispering" tradition.
Jacob was old and living in Egypt. The whole family had been living in Egypt for 17 years, after discovering that Joseph was alive and second in command. Jacob had lived a long life (147 years), and he was ready to die. (Oh, yeah…remember that Jacob has a second name, Israel, which he receives after wrestling with an angel.)
Jacob has mostly made peace with the fact that he's going to die. But there's one thing that makes him afraid. So he gathers his children to bless them and to have a final conversation.
When his twelve sons and his daughter arrive, he tells them, "I am afraid to die."
They answer, "There is no need to fear death, father. God loves you."
Jacob answers, "I am not afraid of death. I am afraid of dying and leaving you in Egypt without me. Egypt is a land that believes in many gods. It carves statues of people out of sides of mountains and pretends that they are gods.
I am afraid that when I am gone, you will forget the one God, the God who spoke to Abraham and Isaac and to me."
His thirteen children then answer, together, with both tears in their eyes and resolve in their voices:
"Listen, father (who is known as both Jacob and Israel). Don't worry, because (no matter what the Egyptians believe) Adonai is our God. And we know that Adonai is one." In other words, they recite Shema: Shema Yisrael (Listen, Israel/Jacob) Adonai Eloheinu (Adonai is our God) Adonai Echad (Adonai is one).
Jacob also tears up. He now knows that his children will carry on with their faith, even as they are surrounded by an alien (and sometimes hostile) culture. With his last dying breath (it was a whisper), Jacob answers:
"Praised be God, whose glorious reign will go on forever, since my children will carry on this heritage, and pass it on to their children, and on and on forever." In other words, Jacob whispered the second line of Shema: Baruch shem (Blessed is God) kevod malchuto le-olam va-ed (whose glorious sovereignty will go on forever).
This is an important lesson to remember, as we find ourselves in the midst of a holiday season celebrated by our friends, but not by us. We are surrounded by a (religious) culture different than ours. Let us hold fast to the wonder and joy that is Judaism. May we be like Jacob's sons, and proclaim in loud voices: "Shema Yisrael."