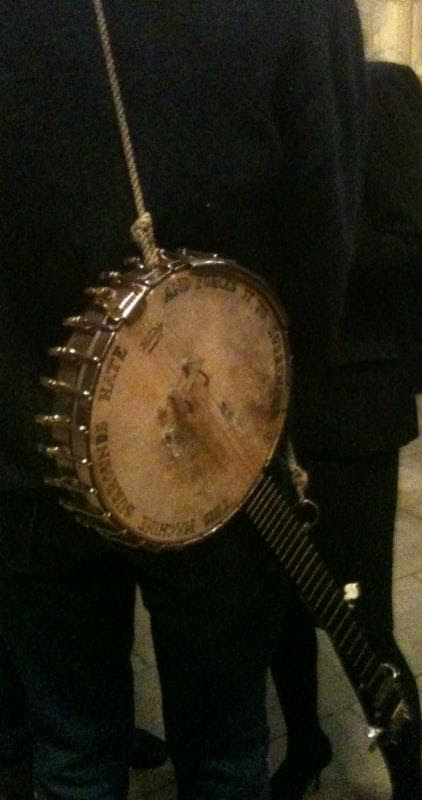 …a remembrance
I met Pete Seeger in the autumn of his life. It was 2009 and he had turned 90 six months earlier. His iconic banjo, inscribed with the words, "This machine surrounds hate and forces it to surrender," was slung across his back.
The occasion was a memorial service for Mary Travers. He was standing at the front of the room, talking to Judy Collins, the two of them intent on one another's words. As I approached, the two of them paused and just as I was about to ask them if I could take a picture with them…at that exact moment, a little girl – maybe 5 years old – scurried up (with mom a few feet behind) and reached up and started to pluck on Seeger's banjo. He instinctively turned around to protect his instrument and – seeing the cherubic face of his young intruder – leaned down and said, "Do you like this?"
She was a bit surprised, slowly retreating towards her mom, who was hovering just beyond in case her daughter had crossed that invisible line of personal space.
Seeger swung his banjo around, showed her the words on the face of it, and said, "See these words? They are for you. Never be afraid to reach out and make music." Then, he took her hand tenderly and helped her strum on the banjo.
Pete Seeger was an icon for me. Yet, it wasn't until well past the 60's that I appreciated fully the gift of music and morality that he offered. Even though Seeger was not Jewish, there was something about the Jewish story that captivated him. As J.J Goldberg pointed out in his tribute to Seeger, almost every sing-along concert he performed contained at least one Israeli/Hebrew song. And the content of his other music clearly spoke to the prophetic voice of Jewish tradition.
Seeger was true to his beliefs. He saw – and experienced personally – hate and prejudice. Yet, he never faltered. His message was simple and powerful: surround the evil of the world and force it to surrender. He did this with his music. And we were the recipients of that gift.
I never did get a picture of Seeger and me.
But, I did capture one of Pete's banjo.